The business core of Tokyo is made up by three special wards. Chūō is one of them, with Chiyoda and Minato being the other two.
The name Chūō means Central Ward. Historically, Chūō was the main commercial centre of Tokyo, and it is still a very important hub for shopping and other commercial activities. The most famous of the districts within Chūō is Ginza, one of the most luxurious shopping districts in the world.
Short facts about Chūō
| | |
| --- | --- |
| Coordinates | 35°40′N 139°46′E |
| Area | 10.21 km2 |
| Population | 141,454 (May 2015) |
| Official tree | Willow |
| Official flower | Azalea |
Chūō background
This area became a commercial district under Shogun Tokugawa Ieyasu in the 17th century AD. After a devastating fire in the 1650s, the area was re-designed with more canals to allow for more maritime commerce.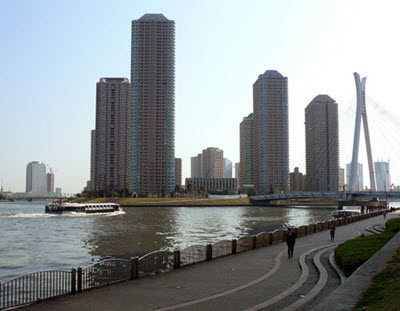 In 1869, a foreigners' settlement was established here. After another catastrophic fire event, the governor of Tokyo re-designed the Ginza section in 1872 to create a modern European-style commercial district between Tokyo's main railway station (Shinbashi) and the city's main business and financial district (Nihonbashi).
After the end of World War II, the occupying Allied Forces took over several major buildings in the area and turned them into supply centres. Buildings such as the Matsuya department store, the Hattori Watch Company and the Toshiba house was not returned until 1951.
The Tokyo Stock exchange
The Tokyo stock exchange, home to the Nikkei 225, is located in the Chūō district. It is the worlds 4th largest stock exchange and many large international companies are traded on the Tokyo stock exchange.   Many of these companies can also be traded as binary options and CFD certificates.  Learn more about that here.
Examples of companies listed on the Tokyo stock exchange includes Honda Motor Co, Isuzu Motors, Mitsubishi Motors, Toyota Motor Co, Canon Inc and many other famous companies.
Shopping in Ginza
The Ginza district, named after a silver mint that used to be located here, is found north of Shinbashi and south of Yaesu and Kyobashi. It is famous for its abundance of upscale shops, including several internationally renowned department stores, such as Wako, Seibu, Hankyu, Mitsukoshi, Matsuya, and Ginza Six.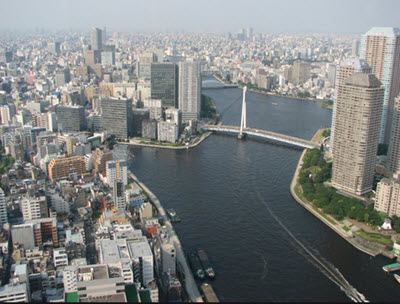 Many of the world's leading fashion houses have flagship stores here, and when it comes to electronics, companies such as Sony, Apple and Ricoh have expansive showrooms in Ginza. To accommodate the well-heeled shoppers, Ginza is also home to many elegant coffee-houses and restaurants.
Examples of high-end fashion retailers present in Ginza:
Chanel
Dior
Louis Vuitton
Carolina Herrera New York
Gucci
The theatre Kabuki-za
Located in the Ginza part of Chūō., Kabuki-za is the principal theatre in Tokyo for the traditional Japanese dance-drama form known as kabuki.
Performance are available almost every day, and you can buy tickets either for an entire play or for a specific act. A new program is launched every month, with one set of plays for the afternoons and another set for the evenings. All the performance are produced by Shochiku Company Limited.
Coordinates: 35.66953°N 139.76800°E
Capacity: 1,964 spectators