Harajuku is one of the most famous centers of Japanese youth culture and fashion, and this part of Shibuya is visited by large amounts of tourists each year – both domestic and foreign ones.
If you want to see Japanese youth showcasing elaborate street fashion, you can visit Jingu Bashi on Sundays. This is a pedestrian bridge connecting Harajuku Station with the entrance to the Meiji Shrine.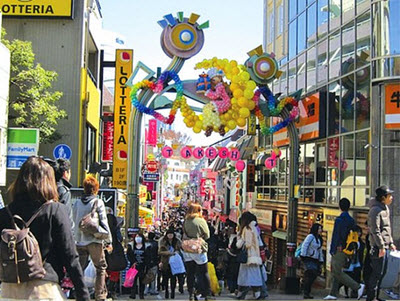 The chief area known as Harajuku reaches from Harajuku Station to the zelkvoa tree-lined avenue Omotesando, but today several other streets – including smaller backstreets – are included as well when people talk about Harajuku. Takeshita Street and Cat Street are for instance generally considered a part of Harajuku nowadays.
In addition to shops, Harajku have a lot of youth-oriented cafés and restaurants. Other examples of popular destinations here are the Yoyogi Park and the Meiji Shrine.
Getting to Harajuku
The Harajuku Station is served by the JR East Yamanote Line.
The Meiji-jingumae Station (in front of the Meiji Shrine) is a part of the Tokyo Metro subway network and is served by the Chiyoda Line and the Fukutoshin Line.
The Meiji-jingumae Station is right next to the Harajuku Station, and its marked as an interchange on most transport maps. Because of this, many signboards use the name Meiji-jingumae 'Harajuku' Station.
The Meiji Shrine and the surrounding tree park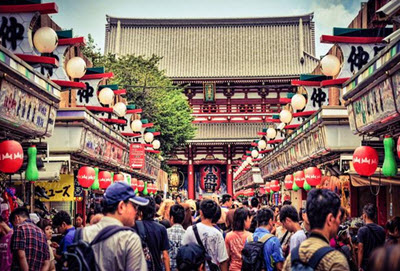 The Meiji Shrine, a large Shinto shrine dedicated to Emperor Meiji and his wife Empress Shoken, is located within a 70 hectare forest with 365 different species of tree. When the shrine was established, trees were donated from all over Japan. Today, this forest is an important area for relaxation and recreation in Shibuya.
From Harajuku Station, take the Jignu Bashi bridge to reach the entrance for the shrine complex.
Omotesando
Omotesando is a tree-lined avenue that runs through both Shibuya and Minato, from the Meiji Shrine entrance to the Omotesando Station. It was created to be the impressive frontal entry avenue to the Meiji Shrine. Today, it is the main vehicle thoroughfare for Harajuku and Aoyama, and famous for its rich assortment of luxury-goods flagship stores. This is a street where well-heeled customers come to shop for brands such as Dior, Louis Vuitton, Alexander McQueen, and Gucci. For those of use with a smaller budget, international chain stores such as H&M and Zara are present.
Omotesando's side streets, known as Ura-Harajuku, are filled with cafés, restaurants, bars and small boutiques.
Yoyogi Park
This used to be an army parade ground, but is today a popular public park. On Sundays, Japanese rock music fans – especially of the rockabilly variety – gather here. You can also expect to see displays of martial arts, cosplayers, jugglers, and other subcultures and hobby groups.
The park has nice bike paths and you can rent a bike. There are also picnic areas if you want to bring food.
During hanami, thousands of people come to the park to picnic and enjoy the cherry blossoms.
Takeshita Street
This is a shopping street in Harajuku where you can find a lot of small independent shops. Quite a few manufacturers use this street as a testing ground; they send new products to small "antenna shops" to gauge consumer interest before deciding if a new product will get a wider launch or not.
Takeshita Street is especially popular among young shoppers. In addition to small independent shops, you find major chains such as The Body Shop here.
Throughout the 1990s and to 2004, Takeshita Street was famous for its abundance of pirated brand products, but in 2004 the metropolitan authorities cracked down on this illegal vending.
Takeshita Street is located across from the exit of JR East's Harajuku Station.
The Ukiyo-e Ōta Memorial Museum of Art
This museum exhibits Ukiyo-e works. Ukiyo-e ("Pictures of the Floating World") is a genre of woodblock prints and paintings that flourished during the 17th, 18th and 19th centuries. Popular themes include kabuki actors, sumo wrestlers, beautiful women, erotica, nature, and scenes from Japanese history and folklore. The 12,000+ item strong collection housed in this museum was amassed by the collector Ota Seizo V (1893-1977).