Shibuya, one of Tokyo's 23 special wards, is a major commercial and business centre in Tokyo, and also a very important transportation hub, since this is where you'll find two of the busiest railway stations not just in Japan but in the whole world: Shibuya Sation and Shinjuku Station.
Shibuya is one of Japan's most renowned fashion centres, especially for young people, and it is also a ward famous for its nightlife.
Short facts about Shibuya
Area: 15.11 square kilometres
Population: 221,801 (May 2016)
The name Shibuya (Shibuya-ku) means Astringent Valley.
The Shibuya scramble crossing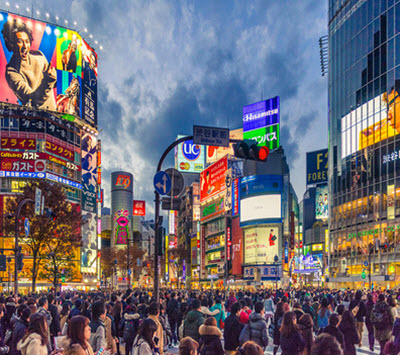 A notable landmark in Shibuya is the scramble crossing in front of the Shibuya Station's Hachikō exit. The surrounding buildings feature numerous advertisements and three huge video screens, giving it a vibe similar to Times Square in New York City and Piccadilly Circus in London.
Between the station and the intersection is the statue of the famous Akita Inu dog Hachikō.
The Shibuya scramble crossing has been included in many contemporary media productions and is utilized as a symbol for Tokyo – especially in international products. You can for instance see this crossing in films such as "Lost in Translation", "The Fast and the Furious: Tokyo Drift", and the two Resident Evil sequels "Afterlife" and "Retribution". The crossing was also included in the 2016 Summer Olympics closing ceremony to promote the 2020 Summer Olympics in Tokyo.
Takashimaya Times Square (Sendagaya)
One of the largest department stores in all of Japan is the Takashimaya Times Square (Sendagaya) in Shibuya.
Address: Times Square, 24-2, Sendagaya Gochome, Shibuya
Directions: The derpartmenstore building is connected with the South Gate of the Shinjuku Station (lines operated by JR East), and with the Shinjuku-sanchome Station on the Tokyo Metro Fukutoshin Line.
History: This huge department store is operated by Takashimaya, a company rooted in a small sole proprietorship founded in 1831 by a merchant from present-day Fukui Prefecture. The original store, located in Kyoto, was just 3.6 square meters in size and specialized in selling a type of formal kimono called gofuku.
109 (Ichi-maru-kyū)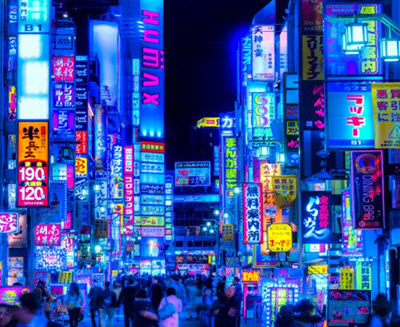 The department store 109 (Ichi-maru-kyū) is located across the street from the Shibuya Station. When it was first opened in 1979, its chief target audience was women in their early 30s. Today, many of the visitors are considerably younger, and 109 has become famous as a popular hang-out and shopping spot for members of the subculture gyaru.
Notable green areas in
The Yoyogi Park used to be a training area for the Imperial Army.
The Shinjuku Gyoen (Sendagaya) used to be a secluded Imperial garden, but is today a park open to the public.
There is a 700,000 square metre forest surrounding the Meiji Shrine; a Shinto shrine dedicated to the souls of Emperor Meiji and Empress Shoken.
Same-sex partnership certificates
In 2015, the Shibuya special ward became the first Japanese municipality to issue same-sex partnership certificates. It was a result of the Shibuya council passing an "Ordinance for Promoting Respect of Gender Equality and Diversity in the Ward."