Many tourists that visit Tokyo stay in hotels in Shinjuku, since this special ward has a wide range of accommodations available at various price levels, and is also well connected by railway and metro to other parts of Tokyo. There is also a multitude of things to experience within Sinjuku itself, and spending a whole vacation exploring Shinjuku without ever feeling the need to leave for other parts of Tokyo is certainly not difficult.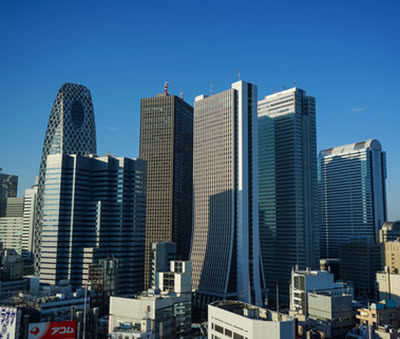 Shinjuku is a major commercial, administrative and cultural center, and the northen half of the world's busines railways station (Shinjuku station) is located within this special ward.
It was after World War II that Shinjuku began to develop into a major secondary center of Tokyo, rivaling the original city center focused around the Imperial Palace. The Tokyo Metropolitan Government Building, where the whole metropolis is administered, is located in Shinjuku.
Short facts about Shinjuku
Area: 18.23 square kilometres
Population: 337,556+ (May 2015)
Coordinates: 35°42′5″N 139°42′35″E
Official tree: Zelkova serrata
Official flower: Azalea
Shinjuku station
Shinjuku Station lays at the border of two special wards, with the northern part of the station located in Shinjuku and the southern half in Shibuya. This station is the busiest railways station not just in Japan but in the whole world, with an estimated 3.64 million passengers passing through on an average day. In addition to several JR lines, three governmentally owned underground lines and three privately owned commuter lines traffic this station.
East of the Shinjuku Station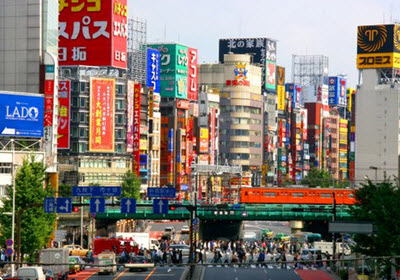 The area east of the Shinjuku Station, and surrounding the Shinjuku-sanchome Station, was historically known as Naito-Shinjuku. This is where The Tokyo Metropolitan Government Building is located.
A few examples of other points of interest:
The flagship Isetan department store.
Shinjuku Gyoen, over 58 acres of park with environments showcasing a blend of style elements inspired by Japanese Traditional, French Formal and English Landscape gardens.
Golden Gai, an area with plenty of affordable dive bars and dodgy night clubs. Popular watering holes for actors, musicians, journalists, writers, etc.
Shinjuku Ni-chome, famous district for gay nightlife in Tokyo.
Kabukicho, one of Tokyo's best-known Red Light Districts.
Okubo
Okubo is the area surrounding the stations Okubo, Shin-Okubo and Higashi-Shinjuku. Since the end of World War II, this has been Tokyo's "Korea Town".
Totsuka
This is a popular nightlife area for students and other young people, and quite a few of them live and study here too. Totsuka is located in northern Shinjuku, around Waseda University (Nish-Waseda) and the Takadanobaba Station.
Examples of museums in Shinjuku
Shinjuku Historical Museum
National Museum of Nature and Science, Shinjuku Branch
National Printing Bureau Banknote and Postage Stamp Museum
Tokyo Fire Department Museum
Examples of music, theatre and similar venues in Shinjuku
Tokyo Opera City
Shinjuku Koma Theater
Shinjuku Bunka Center (for various events, from classic concerts and ballet to Rakugo)
Public rail transport
JR East
Yamanote Line: Takadanobaba, Shin-Ōkubo, Shinjuku
Chūō Line (Rapid), Chūō-Sōbu Line: Yotsuya, Shinanomachi, Shinjuku, Ōkubo
Saikyō Line, Shōnan-Shinjuku Line: Shinjuku
Tokyo Metro
Marunouchi Line: Yotsuya, Yotsuya-sanchōme, Shinjuku-gyoenmae, Shinjuku-sanchōme, Shinjuku, Nishi-Shinjuku
Yūrakuchō Line: Ichigaya, Iidabashi
Tōzai Line: Kagurazaka, Waseda, Takadanobaba, Ochiai
Fukutoshin Line: Nishi-Waseda, Higashi-Shinjuku, Shinjuku-sanchōme
Namboku Line: Iidabashi, Ichigaya, Yotsuya
Tokyo Metropolitan Bureau of Transportation
Toei Shinjuku Line: Akebonobashi, Shinjuku-sanchōme, Shinjuku
Toei Ōedo Line: Ochiai-Minaminagasaki, Nakai, Nishi-Shinjuku-gochōme, Tochō-mae, Kokuritsu-Kyōgijō, Ushigome-Kagurazaka, Ushigome-Yanagichō, Wakamatsu-Kawada, Higashi-Shinjuku, Shinjuku-Nishiguchi
Toden Arakawa Line: Omokagebashi, Waseda
Others
Odakyu Electric Railway Odawara Line: Shinjuku
Keio Corporation Keio Line, Keio New Line: Shinjuku
Seibu Railway Seibu Shinjuku Line: Seibu-Shinjuku, Takadanobaba, Shimo-Ochiai, Nakai