Tokyo has an extremely well developed network of public transportation, with railway commuter lines, underground (metro / subway) lines, monorails, trams and buses. There are over 60 electric train lines and over 900 train stations in Tokyo.
Fast and punctual trains bring travellers into the Greater Tokyo Area from other parts of Japan, but domestic air travel is also an option.
When it comes to international air travel, Tokyo is served chiefly by the Tokyo Narita Airport and Tokyo International Airport (Haneda Airport).
Rail (both above and below ground)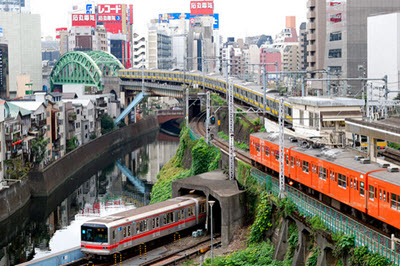 Rails is an extremely important mode of transportation in Tokyo and the Greater Tokyo Area, and the traffic situation would quickly collapse if all commuters started using private car transport instead.
Tokyo has the most extensive urban railway system in the world, with both surface railway and underground (subway / metro) lines.
JR East
JR East operates Tokyo's largest railway network, including the important Yamanote Line loop that circles the heart of Tokyo.
Underground
The underground network is operated by two organizations:
The privately owned Tokyo Metro
The governmental Tokyo Metropolitan Bureau of Transportation
Bus
Both the Metropolitan Government and private carriers operate bus routes, with local, regional and national services.
The largest bus stations are adjacent to major railway and underground stations, such as Tokyo Station, Shinagawa station and Shinjuku station.
Trams
The Toden Arakawa Line (Tokyo Sakura Tram) is the only remnant of Tokyo's once so extensive streetcar network. Operated by the Tokyo Metropolitan Bureau of Transportation, this hybrid light rail/tram line traffics northern and eastern Tokyo; areas rarely visited by tourists.
The Tōkyū Setagaya Line is privately owned and operated by the Tokyo Corporation. This line runs within Setagaya, from Sangen-Jaya to Shimo-Takaido. It is a light rail line with its own right-of-way, but is still administratively considered a tram and thus governed by the Tramways Act.
Ferry
Long-distance ferries carry passengers and cargo to the islands of Tokyo.
Taxi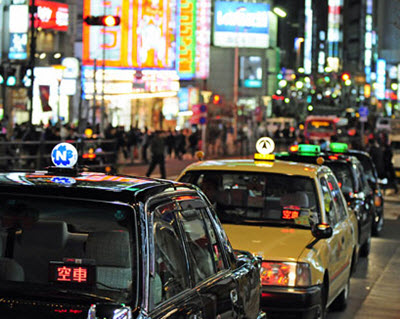 You can hail a taxi by waving your hand from the pavement. The taxi is vacant if the light on the top of the car is turned off, and a red light in the front of the car is turned on. This red light shows the kanji for ku-sha, which means empty car. If the light is green instead of red, the car is occupied.
The taxis accept both cash and major credit cards. Some also accept Suica and Pasmo cards.
Most taxis in Tokyo have passenger doors that open and close automatically.
The price consist of a starting fee + a rolling rate per 237 meters. Expressway toll fares are not included in the fare. There is a strict no bargaining policy. A surcharge applies at night (typically from 10 pm to 5 am).
Examples of available taxi apps
Japan TaxiOperates throughout Japan's 47 prefectures.
UberAt the time of writing, Uber has been active in Japan for several years but still only covers a small slice of central Tokyo + airport transfers.
Line TaxiLine is a popular messaging app in Japan and Line Taxi is an embedded feature. Line Taxi works through Nihon Kotsu, the largest taxi company in Japan. At the time of writing, service is available within Tokyo's 23 special wards + Mitaka and Musashino. Payment must be made through the app, which requires a Japanese phone number and a Japanese credit card.
Air transport
After World War II, Tokyo's airspace was placed under US military control and Japanese aircrafts were forbidden from entering Tokyo airspace. As a result, the Japanese airports were built outside of Tokyo airspace, such as the Narita International Airport in the Chiba Prefecture.
Narita International Airport (Narita Kokusai Kūkō)IATA: NRTICAO: RJAA
Located approximately 60 km east of central Tokyo, in the Chiba Prefecture, at the border between the towns Narita and Shibayama.
Tokyo International Airport (Tōkyō Kokusai Kūkō), also known as Haneda International Airport ( Haneda Kokusai Kūkō)
IATA: HND
ICAO: RJTT
Located in the special ward Ōta, approximately 14 km south of Tokyo Station.
Tokyo Prefecture islands
Several of the islands included in the Tokyo Prefecture have their own airports, such as Hachijojima Airport, Miyakejima Airport, and Oshima Airport.